WSIB and Return to Work Support
Dealing with the Workplace Safety & Insurance Board (WSIB) can be overwhelming and time consuming. The financial impact of each claim can be extraordinarily high.
Here is where we come in. We take the reins on all administration and communication with WSIB to bring employees back to work with ability focused claims management.
Be confident you are in compliance with all your reporting obligations and avoid additional costs and penalties of mismanaged claims.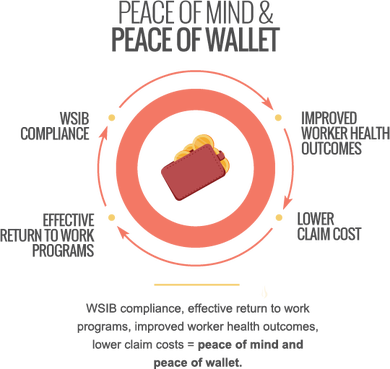 | | | | |
| --- | --- | --- | --- |
| Claim Type Requirements: | Medical Aid only | Lost Time Claim | Addn'l Services |
| Create an accident investigation form. | Yes | Yes | |
| Submit the Form 7 and all other required paperwork to WSIB. | Yes | Yes | |
| Mail copy of Form 7 to the worker as prescribed. | Yes | Yes | |
| Take lead on all communication, verbal and written, with WSIB. | Yes | Yes | |
| Ensure a copy of all correspondence is given to the Company. | Yes | Yes | |
| Create a Return to Work (RTW) package that includes a letter to the doctor and employee regarding the Company's program. | X | Yes | |
| Create a customized Offer of Modified Duties letter (in conjunction with the Company) to be given to the worker. | X | Yes | |
| Ensure medical documentation of abilities is up to date and monitored. | X | Yes | |
| Manage absenteeism and follow-up with the employee's Manager and WSIB ensuring all documentation is in place. | X | Yes | |
| Contest questionable claims and unfavourable WSIB decisions at the initial level. | X | Yes | |
| Preparation of appeals for claims and transfer of cost files. | X | X | Yes |
| Conduct accident investigations. | X | X | Yes |
| Participate in Return to Work mediation meetings with the injured worker. | X | X | Yes |